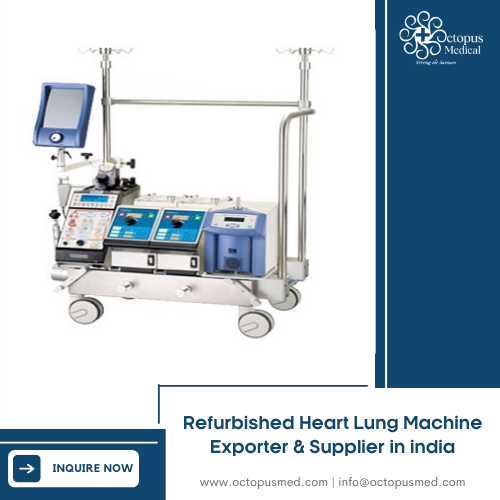 The healthcare world has come a long way in its practice of sustainability and eco-friendliness. One really commendable and efficient way of doing this has been the refurbishment of medical equipment. Healthcare systems are now bringing in refurbished devices into their care facilities to cater to the needs of patients. This is not only a cost-effective method, but also a service to the environment.  
We, at Octopus Medical, trade many different refurbished medical devices and one such high-in-demand product of ours is the Refurbished Heart Lung Machine. This equipment does exactly the same job as a newly manufactured Heart Lung Machine- it manages the role of the heart (pumping blood) and that of the lung (supporting breathing) during critical operations.  
Our Heart Lung Machines have been popular for a while as we manufacture all our goods with utmost care and specialist engineering. Here are the 8 products, with some of their features, on offer in our Heart Lung Machines category: 
 

Maquet Jostra HL 20 Heart Lung Machine

 
Features- 
Complete four pump system

 

Pressure and temperature monitoring system

Air emboli protection system

Cardioplegia monitor unit
Medtronic Biomedicus 540 Centrifugal Pump

 
Features- 
2nd generation of Medtronic's centrifugal pump

 

Bio-Pump Plus outlet opening design 

 

Vertical cutwater outlet design for the Bio-Pump

 

Design defies conventional theory- circular outlets are more conducive to blood flow

 
Medtronic Biomedicus 550 Centrifugal Pump

 
Features- 
Analog and Digital displays for flow and RPM

 

LED display for greater ease of use

 

New distinctive user choices for alerts/alarms

 

Unique base unit display offers redundancy for peace of mind

 
Medtronic Biomedicus 550 with Bio-Cal 370

 
Features- 
Bio-Medicus 550

 

Pump Motor

 

Manual pump head

 

Flow Sensor (adult or paediatric)

 
Stockert Shiley SIII Heart Lung Machine

 
Features- 
  perfusion system

 

Three single heads & one double head

 

Level, temperature, cardioplegia, timer, two-pressure monitors

Stokert Cobe Century Heart Lung Machine

 
Features- 
User-friendly system for advanced haemodialysis processes

 

Easy to use automation system provides prescriptions variability 

 

Push-button controls

 

Innovative cartridge blood tubing set

Built-in arterial and venous pressure monitoring ports

Terumo Sarns 8000 Heart Lung Machine

 
Features- 
Complete 4 Pump Open Heart System

 

Modular design makes a custom system affordable

Built for reliability and durability

Terumo Sarns System 1 Heart Lung Machine

 
Features- 
Pole-mountable pumps

 

Response available on centrifugal pumps

 

Self-adjusting tube clamps

 

Rotating pump 

 
If you would like to order one of our Heart Lung Machines, then please get in touch with us here.