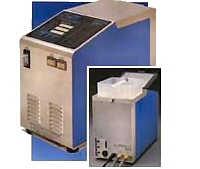 Description
Self-contained, efficient and compact

Blood Temperature Control Module provides safe and precise control

Angled top monitoring panel is easy to read and has bright digital readouts.

It can easily be connected to any cardiopulmonary bypass circuit.

Features a separate top panel section for alarm states.

Patient temperature monitoring is provided with three temperature probes for added safety.

Patient safety is enhanced by microprocessor/controller and independent control of the heater and pump.