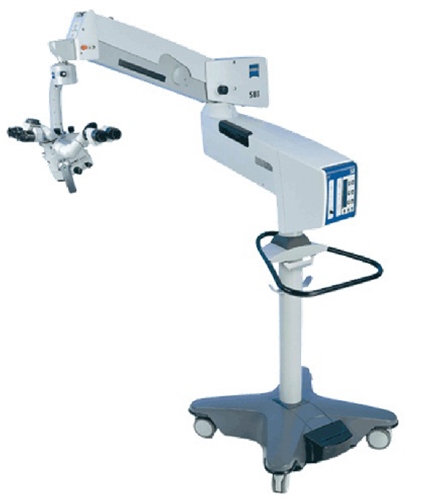 Zeiss OPMI Vario/ S88
Zeiss OPMI Vario / S88 Features
Optics and illumination have been the centerpiece of Carl Zeiss surgical microscopes in the past, and the OPMI® Vario is no different. Its apochromatic optical design delivers high image quality, resolution and color fidelity.
A rock-steady suspension system is a must for good visualization. The suspension systems for OPMI Vario / S88 were designed to meet this requirement. Once positioned, the surgical microscope stays where needed, allowing clinical staff to focus on the surgical procedure.
OPMI Vario / S88 lives up to its name: its flexibility and expandability cover neuro, spine, ENT, and P&R applications. It is suitable for both routine and more complex procedures.
Extraordinary image quality, improved resolution and incredible color fidelity delivered by the brilliant, totally apochromatic optics.
Internal focus mechanism known as the Varioscope – the surgeon can focus up or down the focal plane without changing lenses.
The Zeiss zoom system provides an excellent field of view and magnification.
Xenon illumination brilliantly illuminates even the finest details without distorting their natural colors.
Description
Zeiss OPMI Vario / S88 Specifications
Magnification
Motorized Carl Zeiss zoom, 1:6 ratio, adjustable via handgrip or foot control panel
Focusing system Varioskop®
Imaging area at full longitudinal extension = 73" (185cm) with optional headrest attached and 61" (155 cm) without optional headrest attached.
Working Range
200 – 415 mm
210 – 535 mm with Auxiliary Lens (optional)
Main binocular tube
0-180° Tiltable tube, f = 170 mm or f = 200 mm, 10x or 12,5x wi defield eyepieces
Foldable tube f170 /f260, including PROMAG™ function for additional 50% magnification and integrated rotate function (optional)
Illumination
Superlux® 180 for main and backup illumination: 180 W xenon lamp with daylight color temperature, backup xenon lamp in fast-action changer