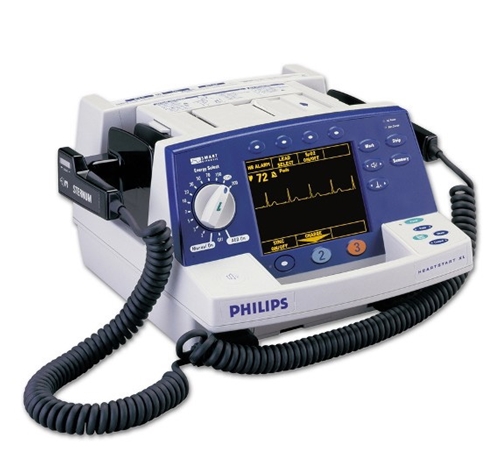 Philips Heartstart XL
Features:
Multifunction Therapy Cable.
3-Lead ECG monitoring with included monitoring.
Selectable limits and alarms.
Liquid crystal display.
50 mm strip chart printer with paper roll.
Data storage/event summary.
SLA battery w/AC Power Module.
SMART Biphasic waveform for defibrillation.
Description
Specifications:
The Heartstart XL is a combination manual device with automated external defibrillator capabilities.
In AED mode, voice prompts and text messages guide users through the defibrillation process, while HeartStart XL continuously monitors and displays the patient's ECG. When the ALS personnel arrive, HeartStart XL is easily switched from AED to manual mode, thus allowing operators to access the unit's advanced therapeutic features.
Synchronized Cardioversion
Philips' SMART Biphasic waveform has undergone clinical testing, demonstrating its effectiveness for cardioversion of atrial fibrillation.
Easy to Use
1-2-3 operation—True 1-2-3 operation makes defibrillation intuitive for all users.
AED mode—Voice and text prompts guide users through the defibrillation process. 150 Joules non-escalating, pre-set energy level.
Paddles—Anterior/anterior adult paddles convert to pediatric by removing the outer contacts.
Multi-function defibrillator pads—Adult and pediatric pads for defibrillation, ECG monitoring, pacing and synchronized cardioversion.
Sterilizable internal paddles(optional) —Switch and switchless internal paddles are designed for open chest defibrillation in the operating room.
Lightweight, Compact, and Durable
Grab and go—Less than 6.35kg
Compact—Easily fits on a standard hospital stretcher.
Rugged—Withstands the rigors of hospital use and patient transport.
Options
SpO2 pulse oximetry with alarms.
Non-invasive pacing.
5-Lead ECG.
General Information About Defibrillators
Why Defibrillation?
Sudden Cardiac Arrest (SCR)-Rapid irregular rhythm causing heart to quiver
Cause: Ventricular Fibrillation (VF)

Can lead to death if emergency shock not delivered

Defibrillation – to counteract fibrillation
Defibrillator
Device used to administer an electric current (shock) to the heart
Types of Defibrillators

Manual external
Manual Internal
Automated External (AED)
Semi-Automated External
Implantable Cardioverter-Defibrillator (ICD)
Manual External Defibrillator
Widely used in Hospitals and clinics
Inbuilt EKG reader
Clinician Diagnoses the condition and accordingly administers the shock through paddles or pads
Manual Internal Defibrillator
Exclusively used in Operation Theatres
Charge delivered through internal paddles in direct contact with the heart
Automated External Defibrillator (AED)
Used by lay persons requiring little training
Built in heart rhythm analyzer
Advices whether shock is required
Semi-Automated External Defibrillators
Used by paramedics and emergency medical technicians
Automated capabilities of AED
With ECG display and manual over ride option
Implantable Cardioverter Defibrillator
Implants similar to pacemakers
Constantly monitor heart rhythm
Automatically administers shock for arrhythmias
Types of waveform – Shape of defibrillation current
Monophasic damped sine waveform – delivers energy in one direction

Relies on adjustment of joule settings

Biphasic damped sine waveform – bi-directional current flow

Measures impedance of patient and delivers precise dose of electricity
Uses significantly low energy levels
Decreases risk of burn in Myocardial damage