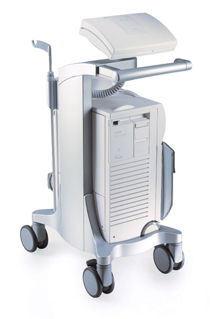 Description
Features:
Converts the highly accurate arterial pressure from the fiber optic IAB catheter, FiberOptixic's series, to Aortic Flow on a beat-to-beat basis.
Proprietary WAVE technology automatically inflates IAB to coincide with aortic valve closure. In the presence of an arrhythmia, initiates realtime, automatic R-wave deflation.
Aortic Flow timing delivers the first truly intra-beat timing system based on individual patient physiology and virtually eliminating timing errors no matter how erratic the arrhythmia is.
2 modes of operation: Operator and AutoPilot
One button start-up.
Full color display with fast inflation and deflation speeds
Bellows / Stepper motor pneumatics with no maintenance required.
Automatic scaling of ECG and pressures.