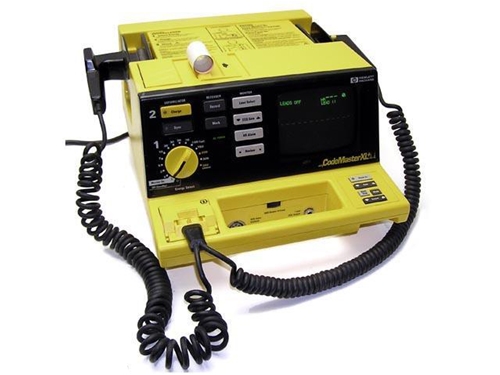 HP Codemaster XL / XL +
Features:
HP Codemaster XL+ high-performance, high-speed defibrillator charges from 0 to 360 joules in under 5 seconds, plus it offers a variety of advanced options easily customized to meet the needs of your unit. The CodeMaster XL+ Defibrillator by HP is a flexible choice for high-use areas of the hospital including operating rooms, intensive care units, cardiac care units, and emergency departments, as well as for clinics and ambulatory surgery centers.

Battery strength indicator LED light
Back-up AC power
Documents and stores events
Shock advisory option
Adjustable heart rate alarms
ECG Monitor
External Paddles
Recorder
Alarms and Code Summary
Patient Ready
Description
General Information About Defibrillators
Why Defibrillation?
Sudden Cardiac Arrest (SCR)-Rapid irregular rhythm causing heart to quiver
Cause: Ventricular Fibrillation (VF)

Can lead to death if emergency shock not delivered

Defibrillation – to counteract fibrillation
Defibrillator
Device used to administer an electric current (shock) to the heart
Types of Defibrillators

Manual external
Manual Internal
Automated External (AED)
Semi-Automated External
Implantable Cardioverter-Defibrillator (ICD)
Manual External Defibrillator
Widely used in Hospitals and clinics
Inbuilt EKG reader
Clinician Diagnoses the condition and accordingly administers the shock through paddles or pads
Manual Internal Defibrillator
Exclusively used in Operation Theatres
Charge delivered through internal paddles in direct contact with the heart
Automated External Defibrillator (AED)
Used by lay persons requiring little training
Built in heart rhythm analyzer
Advices whether shock is required
Semi-Automated External Defibrillators
Used by paramedics and emergency medical technicians
Automated capabilities of AED
With ECG display and manual over ride option
Implantable Cardioverter Defibrillator
Implants similar to pacemakers
Constantly monitor heart rhythm
Automatically administers shock for arrhythmias
Types of waveform – Shape of defibrillation current
Monophasic damped sine waveform – delivers energy in one direction

Relies on adjustment of joule settings

Biphasic damped sine waveform – bi-directional current flow

Measures impedance of patient and delivers precise dose of electricity
Uses significantly low energy levels
Decreases risk of burn in Myocardial damage