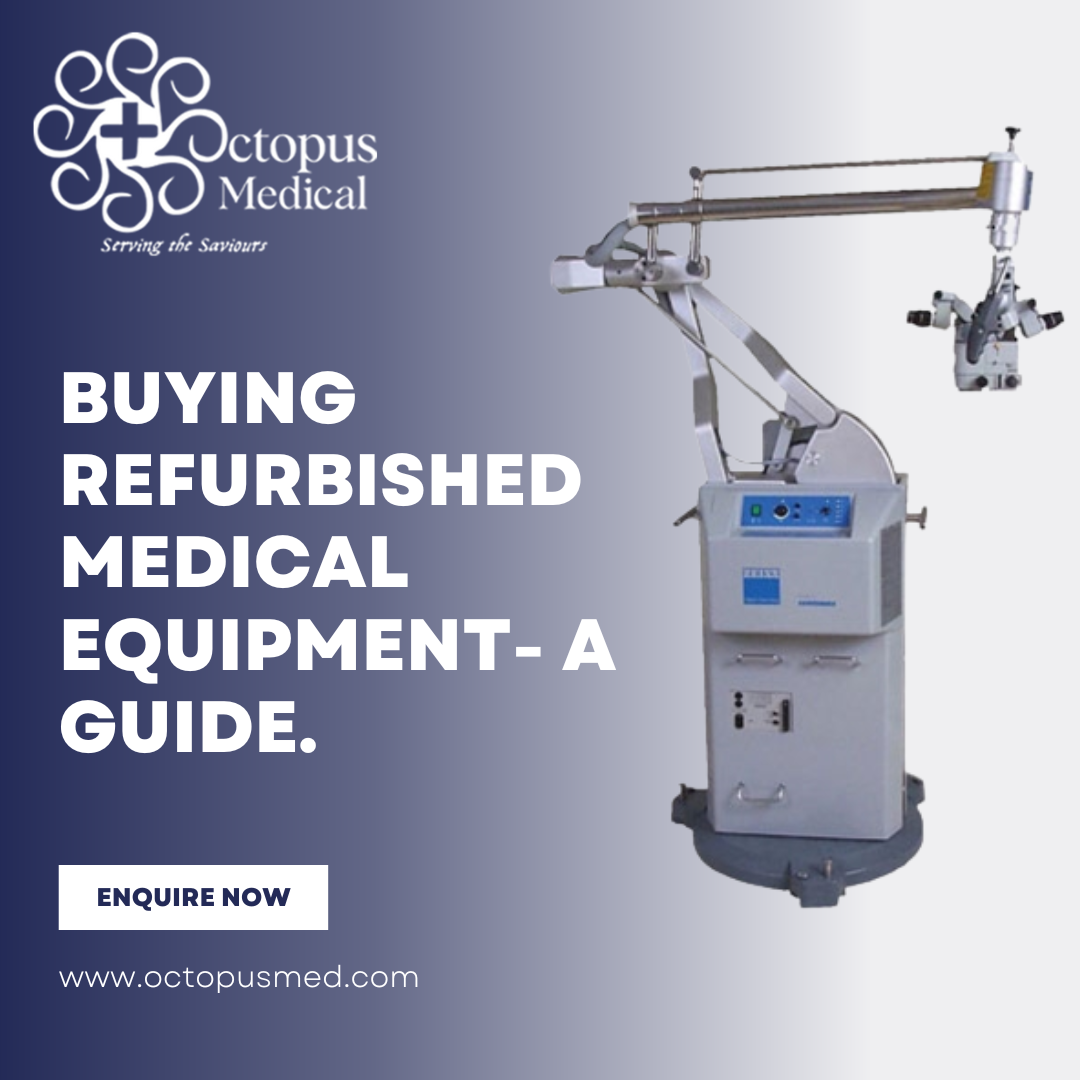 What does 'refurbished' mean?

 
Let us begin with understanding the meaning of refurbished medical equipment. Refurbished medical equipment refers to the used medical equipment that are repaired and restored in functionality for reuse in clinical facilities. These are also commonly called 'second-hand medical equipment'.   
What should you keep in mind while buying?

 
When you are purchasing refurbished medical equipment, it is important to understand the process of buying those products carefully. It is necessary that you go through a checklist and then make a final decision.  
The number one thing that you must do is background check the medical equipment suppliers or vendors you are considering for your purchase. There are have been many cases where medical equipment suppliers in India have provided fraudulent refurbished medical equipment and this can have some serious repercussions. Therefore, doing a detailed research about the medical equipment you are buying is an important step in making your purchase decisions. The next thing you need to consider are the types of refurbished medical products that are supplied in the market. These can be fully refurbished, cosmetically refurbished or partially replaced. It is important to make note of the purpose behind your medical equipment purchase and then make your purchase.  
You must also enquire with your medical equipment supplier about the refurbishing process they use. Generally, the steps involve reconditioning, repairing, installation and operational runs. Inquire about the parts that have been replaced and make sure you know about the date of manufacture as well. Once you have those details, you must also ask your medical equipment supplier about the warranty statement that will come with your refurbished medical equipment purchase. In many cases, refurbished products don't come with a warranty service guarantee. However, some medical equipment manufacturers like us, offer a warranty with all our refurbished medical products. At the same time, we repair and service our sold products even after their warranty period is over.   
Where can you buy refurbished medical equipment?

 
We are a medical equipment manufacturers company in Vadodara that sell premium quality refurbished medical supplies in India. Each of our medical product is refurbished by experts. We have a team of experienced engineers who are involved at each and every stage of the production process. They ensure that all the international standards are met with to manufacture each of the medical units. We make sure that all our refurbished medical equipment are up to mark with the OEM specifications and that's why we have a large customer base. If you are looking for affordable medical equipment then contact us today at +91-7434 880 008 or email us on info@octopusmed.com and we will guide you with your medical equipment purchase!